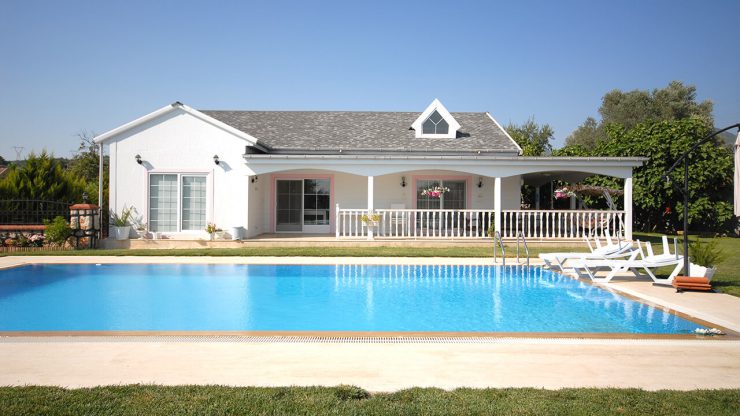 Rising Trend Prefabricated Houses
Such fabrication buildings which host all kinds of comfort and manufactured according to the demands of users, can be conveniently adapted to different settlement areas. These buildings, which is designed in view of acoustic and thermal insulation, environmental circumstances, and measures for fire and earthquake, are designed as single and multi storey buildings.
Prefabricated houses which are produced for different usage purposes and lifestyles make it easy to own a house by offering attractive price options. There are many reasons for you to have one of the prefabricated houses designed with different architectural features such as single storey, villa or waterside residence. There are 10 reasons to buy a prefabricated house that is in harmony with nature.
1-COMFORTABLE AND ECONOMIC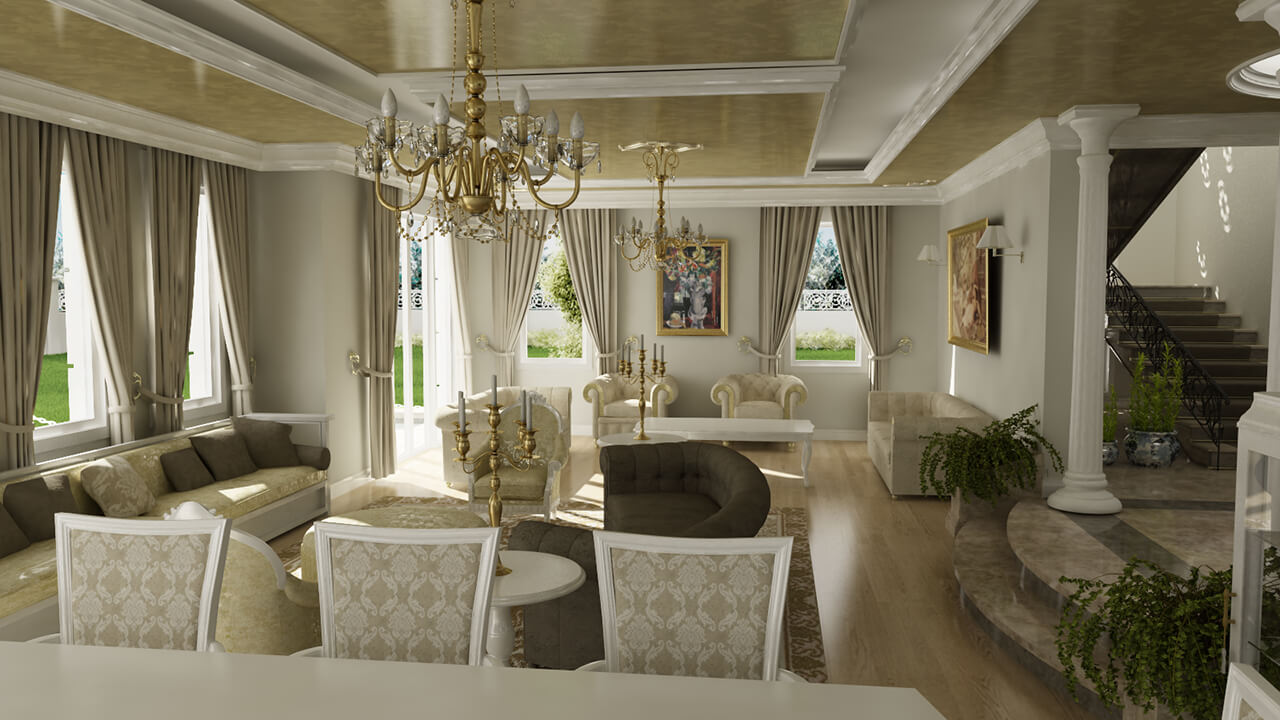 Fabricated structures that can be designed according to the demands of the users offer all kinds of comfort. Since the prefabricated buildings are manufactured in modular system, they can be designed in a size appropriate to the needs of the user and have the desired functions. If you decide to own a prefabricated house, you can have the privilege of choosing the materials you want and building a house of your desired qualification.
Prefabricated House Solutions suitable for Your Budget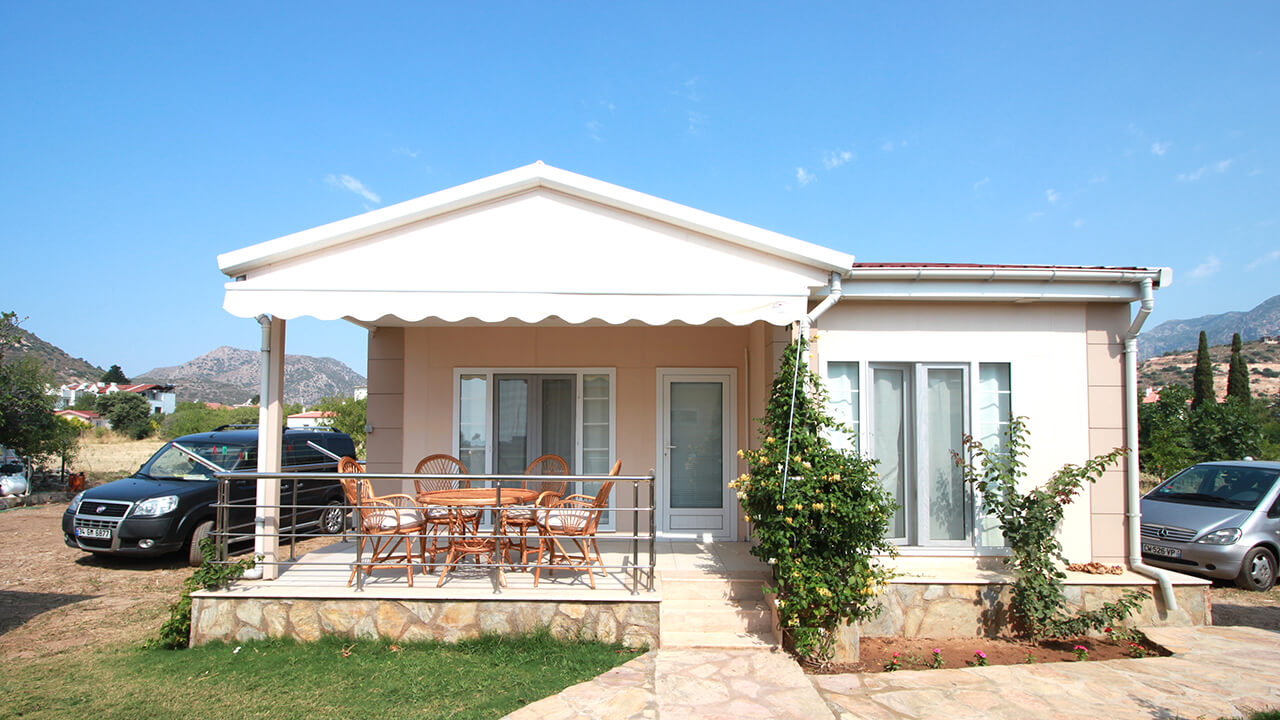 Moreover, you can get your dream house in a short time and with very advantageous prices. Because prefabricated houses are both comfortable and affordable compared to other building options. If you choose a home model made of quality and durable materials, you can use it for many years.
2- STRONG AND LONG SERVICE LIFE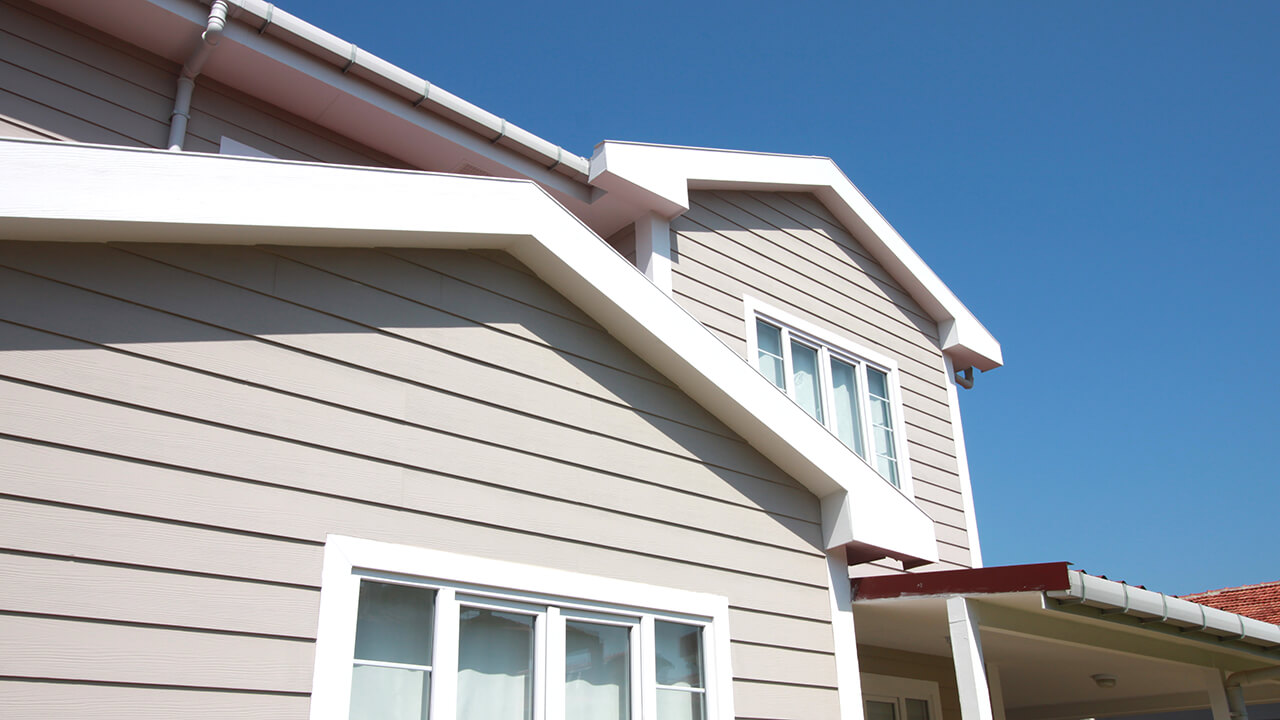 Prefabricated houses are available in such types as steel construction or concrete construction over steel construction. Prefabricated houses, which are manufactured from high quality materials and equipped with reliable electrical and water systems, offer long-lasting use. The houses that are designed with such features shows a nature of being resistant to differing climatic circumstances. Even in places of extreme climatic conditions, prefabricated houses provide superior comfort and safety to their users.
If you own a fabricated house made of long-lasting materials, you can easily use it for many years if you take good care of it.
3- TIME SAVING

While it takes months for the construction of reinforced concrete buildings, you can purchase a prefabricated house and you can have a house with full features you want in the shortest way. Since prefabricated houses are produced in a modular structure within factory environment, so their construction is completed in a much shorter period without any problems. The key to your prefabricated house, which has been carefully designed according to your wishes and needs, is delivered to you in such a short time as an average month. You are only required to locate your home wherever you want. Moreover, you have the chance to move your house to another place if needed.
4- SUSTAINABLE MANUFACTURING TECHNIQUES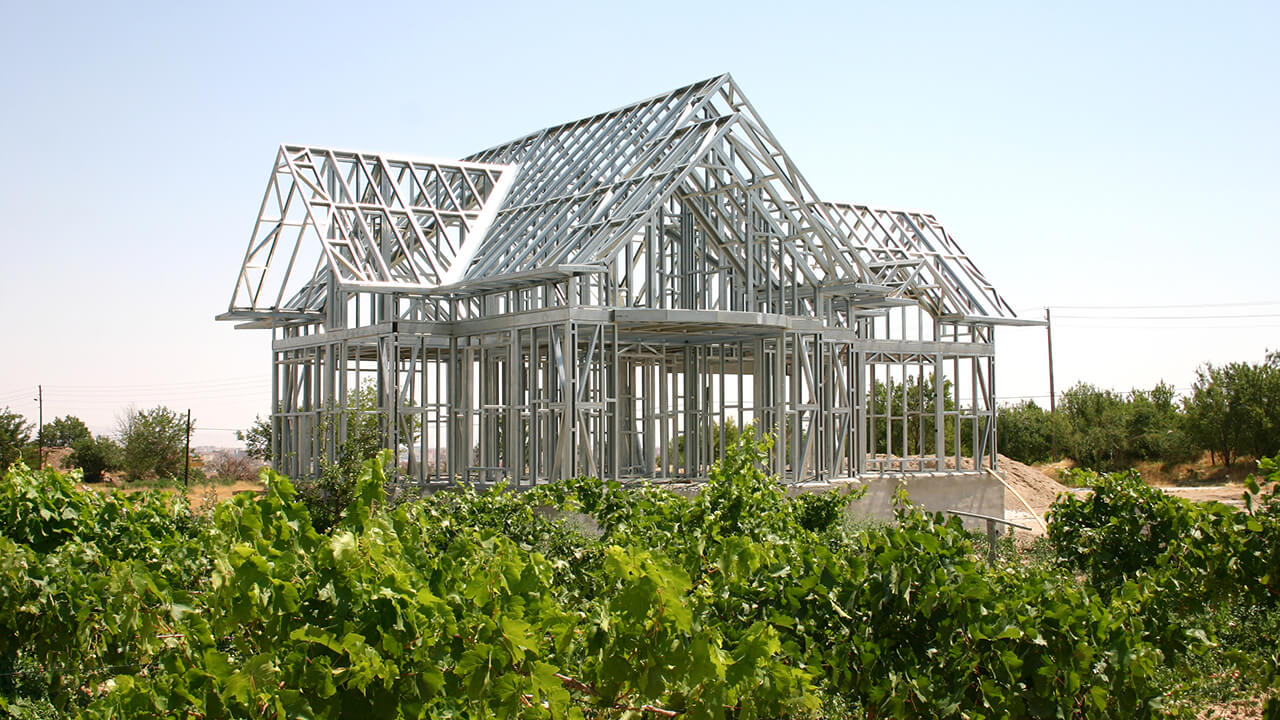 Prefabricated buildings stand out as more economical and rapidly manufactured buildings compared to other manufacturing methods. These houses offer practical and easy installation and can be dismantled if needed. The buildings, which are manufactured using weldless connection technologies and fibercement facade claddings, have the characteristic of boutique housing. Spectacular images and functional features also appeal to users. The fact that they are manufactured from sustainable materials and techniques compatible with nature, makes them environmentally friendly.
The sustainable manufacturing techniques used in the construction of prefabricated houses include environmentally friendly materials with less waste. In this way, users can have a peaceful and safe living space as they wish.
5- ATTENTIVE TO ENVIRONMENT AND HUMAN HEALTH

By purchasing a prefabricated house, you can have an eco-friendly house that is used in all seasons and accommodates all kinds of comfort. Since prefabricated houses are modular structures manufactured from 90% recyclable materials, they succeed in being an example of environmentally friendly and sustainable architecture.
These structures, which contribute significantly to less damage to nature, also pay attention to human health. The houses that are designed with quality natural materials, help your family live a healthier life.
6- CUSTOMIZED DESIGN, MODERN AND AESTHETIC , MODERN

Prefabricated houses manufactured with superior technologies, offer modern, comfortable, aesthetic and healthy lifestyles. Unlike the buildings with standard features, prefabricated houses can be designed according to user expectations. Prefabricated buildings in the forms ranging from small single storey house to three storey villa or waterside residence, can be manufactured. Moreover, the architectural styles of these houses can be determined by their owners.
You have the chance to choose a house designed in a rustic, minimalist, modern or classic style. If you want to buy a prefabricated house; you can prefer from house options such as having patio, balcony, or single-storey or duplex house. You can also choose the materials of your house, whose style can be chosen by you according to your own taste.
7- DEMOUNTABLE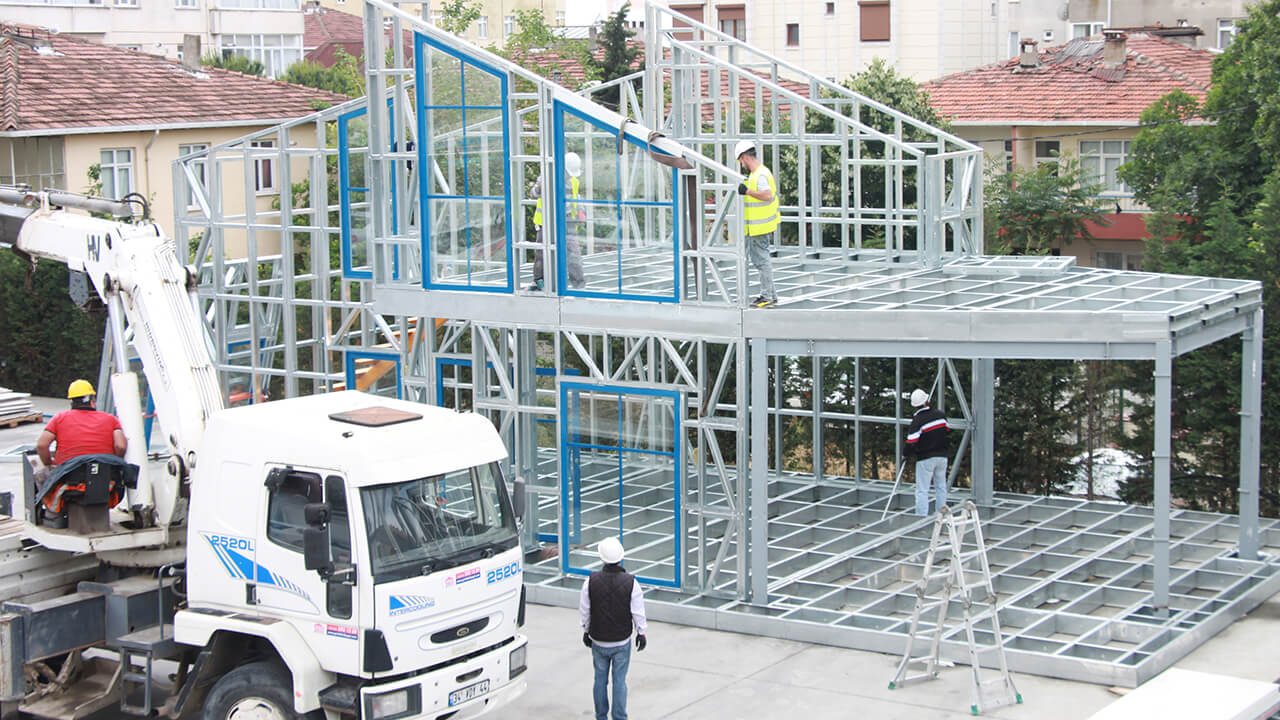 Prefabricated houses are built by assembling the pieces since they have the feature of modular structure. Each part designed in the factory environment is transported to the place where it will be assembled and integrated into the entire ensemble. For this reason, it is also possible to dismantle and move to another location. The parts are disassembled from each other during the transport process and can be reassembled by moving them to their new location. So to say, it is always possible to move your prefabricated house to another area, or to another city.
8- THERMALLY INSULATED – HIGH ENERGY SAVING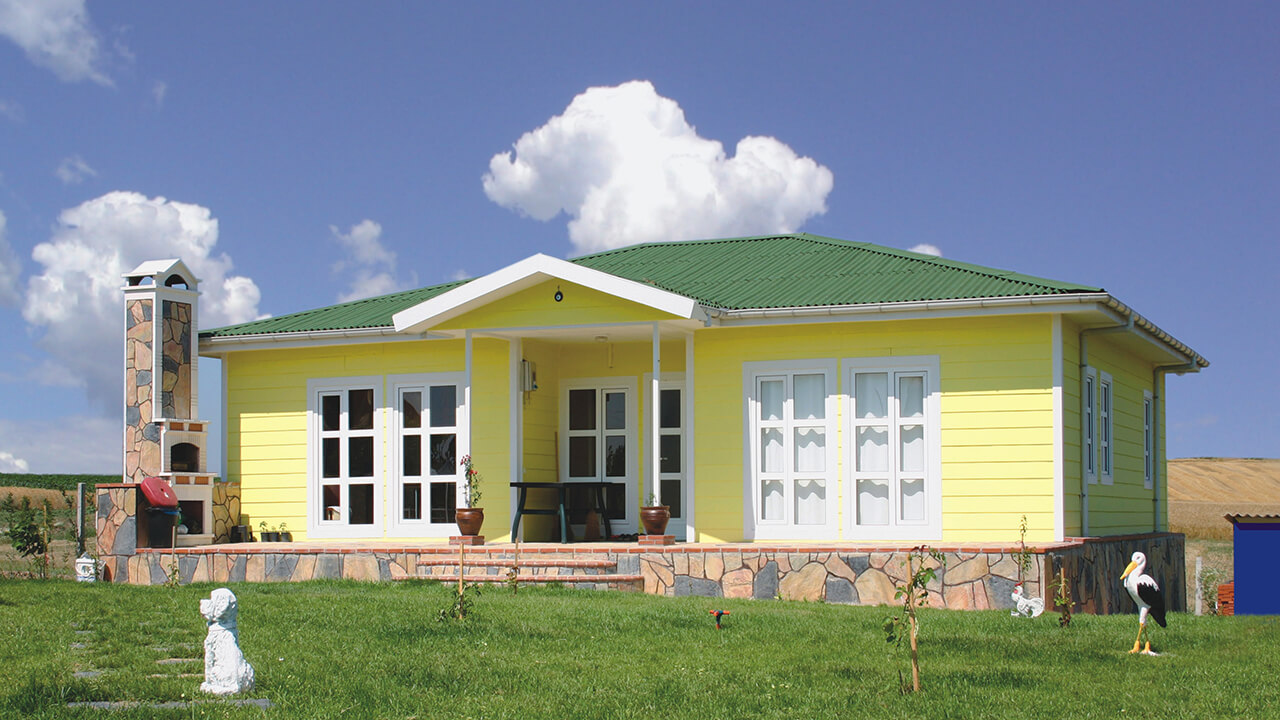 Prefabricated houses, while being designed, are manufactured taking into consideration the climatic characteristics of the region in which they will be installed. Required structural and thermal insulation calculations are performed in line with the environmental and climatic circumstances. So your home is designed to save energy. Optionally, it is possible to have further thermal and acoustic insulation.
The houses, which are mainly produced with wooden materials, offer high performance in terms of energy efficiency. Prefabricated houses are designed with fibercement coating and provide good heat and sound insulation. In your prefab house, you can be sure that you will warm up better than reinforced concrete buildings. You can spend the summer months cool.
9- EMPLOYABLE IN ANY CLIMATIC CONDITION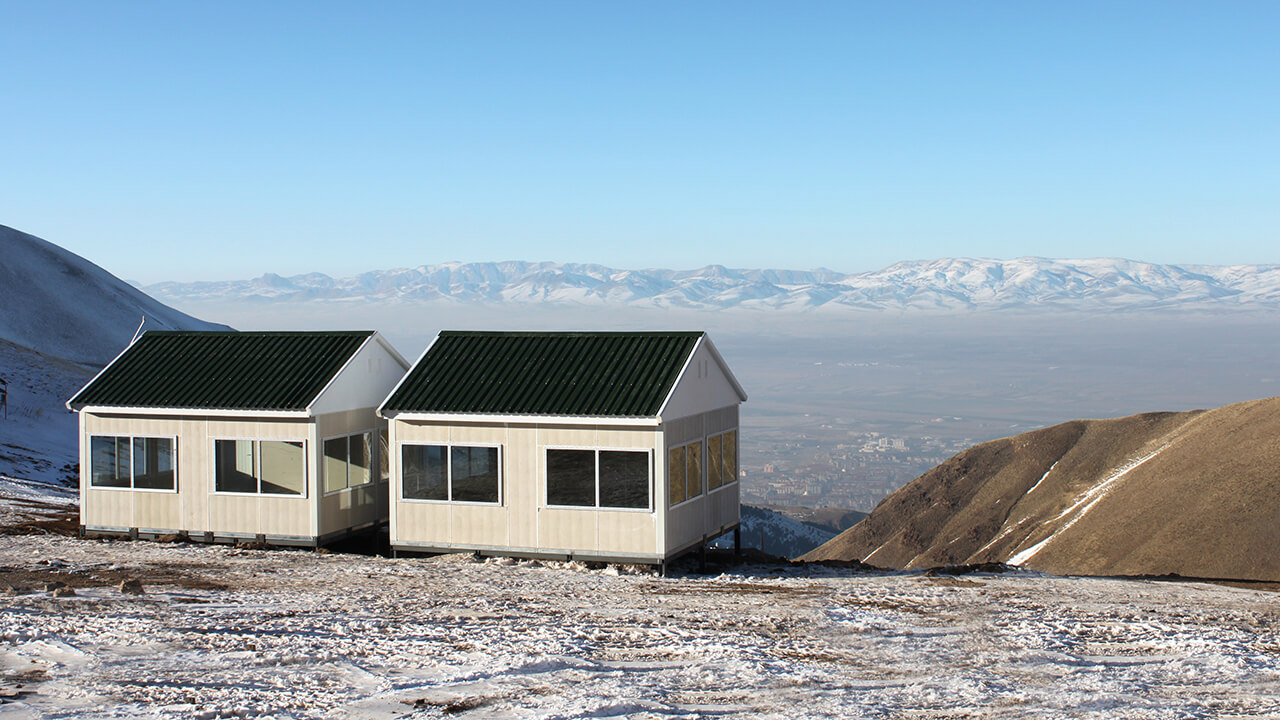 One of the most important features of prefabricated buildings is that they can be manufactured in accordance with all climatic conditions. Prefabricated houses, which can be designed according to cold or hot climatic conditions, are manufactured according to the climatic conditions of the region where they will be placed and so there are no problems caused by adverse weather conditions.
10- RESISTANT TO EARTHQUAKE AND NATURAL DISASTERS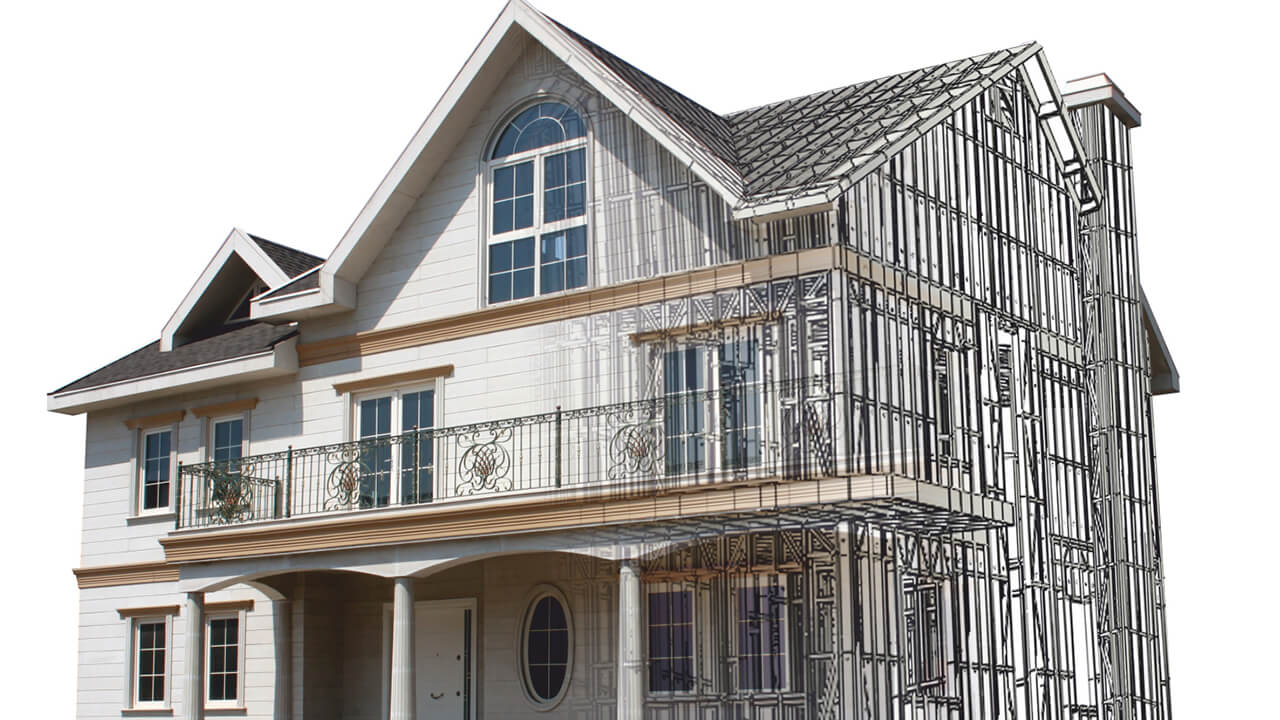 If you want to live in a house that is resistant to earthquakes and natural disasters, your priority preference should be a quality prefabricated house. Rapidly developing prefabricated housing sector after 17 August 1999 Marmara earthquake experienced in Turkey, meets the needs for safe houses of our country located in the an earthquake zone.
Prefabricated houses show resistance to earthquakes and all kinds of natural conditions due to their flexible and lightweight structures. These houses are very strong because they are readymade structures that are resistant to 1st degree earthquake. Thanks to their flexible and lightweight structures, prefabricated houses are not collapsed even if they shake during the earthquake.
Prefabricated buildings manufactured with multi-storey light weight steel technology, constitutes the most effective protection against earthquake which is the unavoidable reality of Turkey. This technology allows the users to live in comfortable and stylish houses with the flexible design privileges it provides in architecture. Prefabricated houses, which offer ecological and comfortable building properties, are also covered with HekimBoard brand fibercement boards with Euroclass A1 fire rating which provides protection against fire risk.
Özge Yapı, which is included in the body of Hekim Holding and has been operating in prefabricated house, steel house, steel housing and readymade building product groups since 1992, manages to be the leader in its sector. For detailed information about the prefabricated houses designed by Özge Yapı with superior technologies, you can visit the prefabricated house page and choose the most ideal house model for yourself.