Özge Yapı is among the corporate companies that rapidly adapt to the changing world, and aims to make life sustainable by planning buildings or confined areas according to new conditions. Modular hospitals are among the most needed building models under today's circumstances. Especially the extraordinary conditions created by the COVID-19 virus caused Özge Yapı to accelerate its works. Together with our design, production and assembly team, we focus on structures that support the healthcare system. We offer you our years of experience to rapidly plan and reproduce such structures.
Prefabricated Hospital Solutions
The global epidemic we are experiencing requires new and perhaps radical measures for the whole world. We develop the structures that are essential in the healthcare system with our experience in this field. We design the most practical solution possible, including a certain level of comfort. This journey is coming to a very important stage with the countless prefabricated healthcare buildings put into production in our factory. We are starting to see some of the advantages of producing buildings with the modular system more clearly, in the process we are in. We produce the parts required to create the required structures very quickly. By correctly designing and manufacturing the attachable parts, we can build the needed structures at the same speed. We carry out projects that would normally be very demanding, such as building hospitals or building residential buildings for healthcare professionals, much faster than any other alternative thanks to containers and prefabricated structures.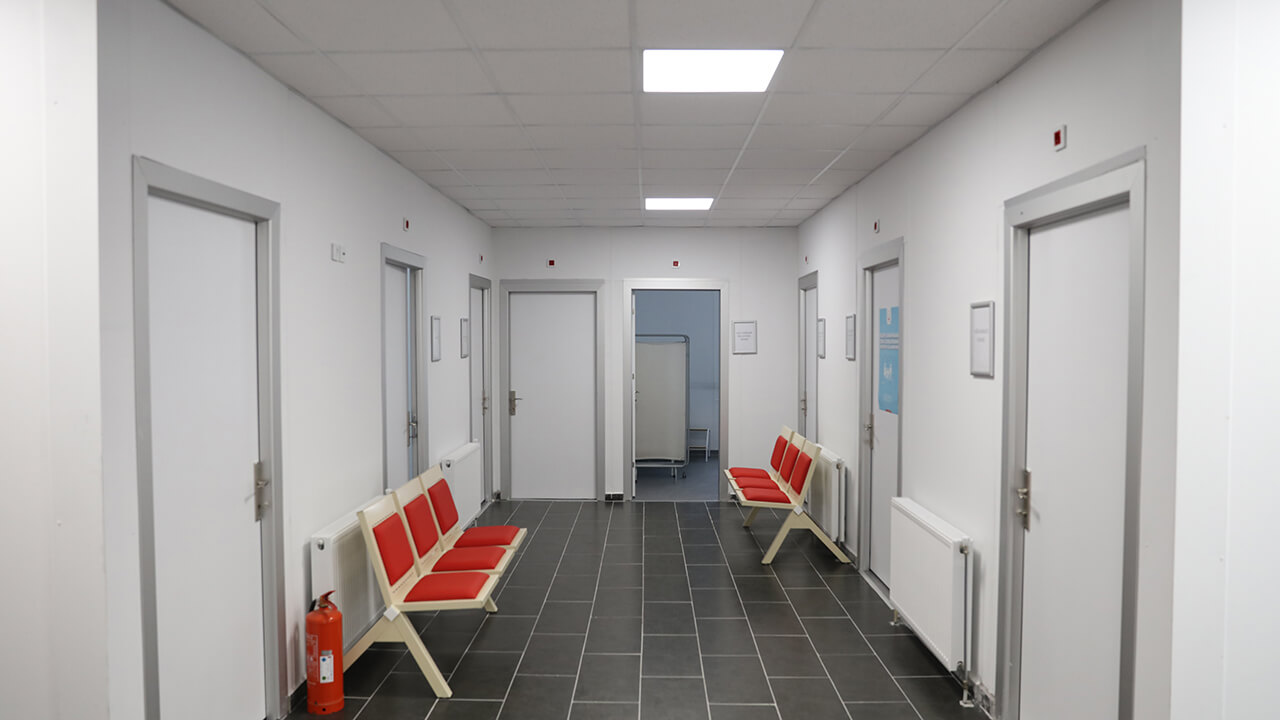 Prefabricated Hospital with Fast Design, Production and Installation
Installation of prefabricated buildings can be done much easier and in a shorter time than building a normal reinforced concrete structure. With this method, we can erect solid structures without digging deep foundations. As long as the needs are clearly defined and the building is designed correctly, we can create all the necessary areas for a hospital. By creating the necessary health conditions with the materials used, we can easily provide sterilization, which is essential in this area. If additional spaces, new rooms or halls are needed, we can make additions to the existing structure in a very short time. While these additions are made, all kinds of medical processes, including patient care, can continue in other sections. This is the advantage of prefabricated buildings. Additions and modifications are possible, and it is suitable for dismantling and assembly.
We can create a building only with assembly methods, without requiring large construction equipment and concrete mixers. Another good aspect a prefabricated building is that the preliminary work time required for the construction area is very short. When the iron constructions that make up the structures are assembled together, the most robust skeletons possible are formed. Combining these solid skeletons with the right materials to create the areas only takes days instead of years or months. That is why prefabricated healthcare buildings are the best alternatives for today.
Prefabricated Healthcare Buildings with Özge Yapı Experience
All areas needed such as laboratories, tomography rooms, patient admission and triage units, emergency services and polyclinics are planned and made operational in our hospital projects that we have and have been constructed. These areas are covered with fibercement façade coating elements that are water resistant and noncombustible. Thus, both patients and healthcare personnel inside as well as the vital medical equipment are protected with one hundred percent assurance.
Thanks to all these modular building advantages, we are working on different projects from our country and the world. We want to be able to overcome these difficult times, where every hour is important, by rapidly building numerous modular hospitals and similar structures that are needed by both the public and the private sector. We are at your side in all processes, from the design to the installation of any project you may need in this field. You can get information and support from our specialist teams about your projects at any time and benefit from Özge Yapı's experience in this field.